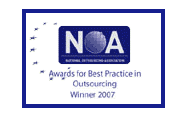 Philippines: The Offshoring Destination of Choice
World-class diving and fantastic beaches - that's what the Philippines are famous for.
Do you also know
that the Philippines is the Offshoring Destination of the Year awarded by the National Outsourcing Association of the UK?
that the Philippines is ranked second after India in BPO , IT and Contact Centres in the Duke University/Booz Allen Hamilton Survey 2006?
that Manila is placed 3rd as an established outsourcing city according to Tholons Study 2007?
Explore the BPO and IT side of the Philippines! Click through these pages and read about European companies who have made the Philippines their offshoring destination of choice; learn from their experiences through case studies and testimonials.
This website was created by Team Europe, an initiative of various private and governmental organisations in the Philippines to promote the Philippines as Offshoring destination of choice in Europe. Team Europe is a one stop information centre that helps European companies evaluate their offshoring requirements.
Be inspired! Take another glance at the Philippines and join us!